It's commonly said that everything is better with friends, but we believe there's a strong case for the backcountry solo traveler. You of course won't be entirely solo, as you'll have the benefit of partnering up with an experienced ski or hiking guide for your backcountry endeavors, and you'll have camaraderie at the Mallard Mountain Lodge. However, being an independent traveler comes with a load of benefits, and we've listed our top favourites for why you might want to try it out for yourself. 
1. Scheduling is Easy
We've all been there. You're desperately trying to get a crew together to go backcountry skiing or hiking, and life just gets in the way. And since it's simply unsafe to go by yourself, you might just end up not getting those precious backcountry turns or summer vistas you've been craving. Life commitments and work schedules can make planning a getaway feel almost impossible at times. However, when you're a solo traveler, you're in charge of only your schedule, making a backcountry getaway extremely simple.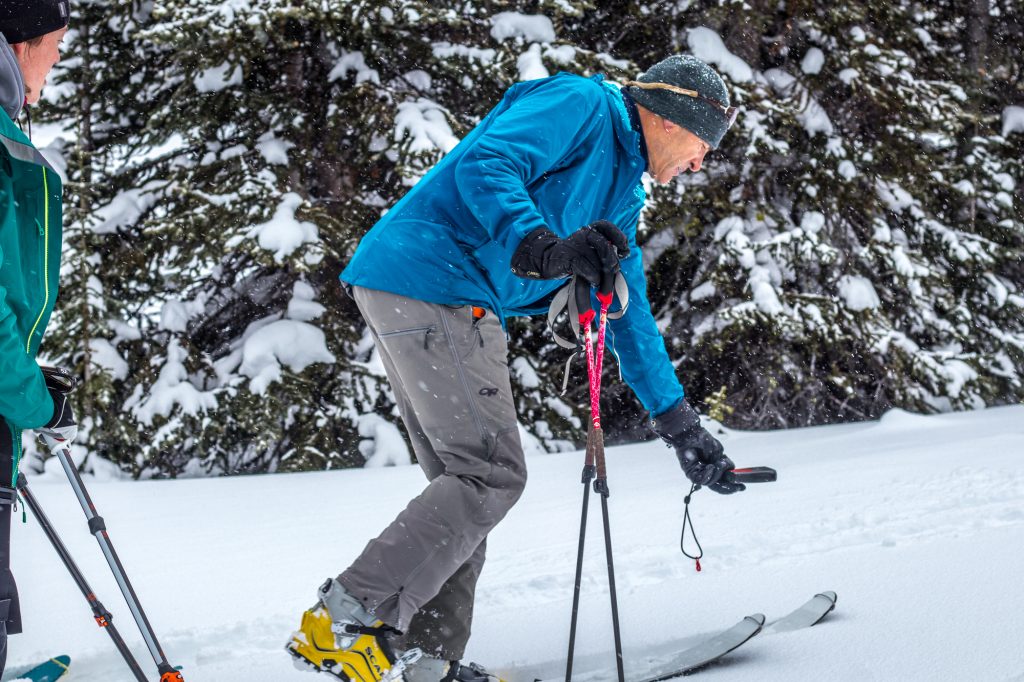 A professional ski guide will be your new best friend in the backcountry
2. Safer with a Ski or Hiking Guide 
No matter whether you have a crew of friends or you are a solo traveler, an experienced ski or hiking guide in the backcountry is always safer. Our professional guides are best equipped to safely show you the best lines and routes in our pristine backcountry. With 18,885 acres of terrain to explore, you'll be happy to have someone lead the way. For backcountry skiing excursions, you might even get a first descent (or two) with 5 sprawling valleys to explore. You can learn more about the benefits of hiring a ski guide on our blog, here.
3. Get Some 'Me' Time  
Getting out on your own and taking a few days just for you is one of the most rejuvenating things you can do for yourself. Hitting pause and disconnecting means you might step back into the "real" world a bit more present and ready to tackle it. Conquering solo adventures, particularly of the backcountry kind, are some of the most empowering adventures you can do. Taking time away for you is truly one of the most important things you can do for yourself, and others in your life. Rejuvenated and empowered? Yup, sign me up.   
4. Go Your Own Pace, the Day is Your Own 
Typically, modern day busy lives usually mean you're on someone else's clock. Why not be on your own schedule for a few days? Stay up late reading by the fire and sleep in a little bit, you can take this experience at your own pace.  Enjoy sprinting up the mountain or taking your sweet time? You can do whichever you like, as you'll be the one setting the pace on your solo adventure. Take photos at all the mind blowing vistas, linger at the summit, and savor all the sweet turns on the way down. It's all up to you.
5. Meet Other Mountain Lovers 
Even though you'll be on your own adventure, you'll be surrounded by like minded people at the lodge in the evenings. The camaraderie at the lodge will be like no other, winding down at the end of an epic day in the mountains with delicious food and a fire.  With our industry-unique small group size of six for the all inclusive option, it is extremely easy to join a maximum of 5 other guests at Mallard Mountain Lodge. Other lodge venues have guest groups sizes that are much higher, between 15 – 44 people, making it difficult to make friends throughout the week. Joining a group of only 5 other guests is much simpler, as you can easily make genuine connections with others in a week or less. As the most private and most remote backcountry lodge in the Canadian Rockies, you'll love the added benefit of a guaranteed small group atmosphere. 
6. Individual Pricing 
At Mallard Mountain Lodge, we offer individual pricing to make things easier for the solo traveler. We know the scramble. You have 4 people locked in for a trip, someone backs out and you either have to pick up the tab or find someone to fill in. You don't have to worry about getting a specific number to make the price right, or booking out the entire lodge, your price is your price.  
Conclusion: So whether you're looking to get away to hit the reset button, or simply can't get your crew together, we hope this inspired you to get to the backcountry on your own. Click here to learn more about backcountry skiing excursion to the Mallard Mountain Lodge, and here for information about summer hiking. You can also give us a call at 250-835-4516 if you have any questions or want to book over the phone.
Next steps?